If you missed part 1 of the basement reveal, you can find it here.
One of the main functions our basement needed to provide was space for a large family room where we could have an enormous TV and entertain large groups of people. B is so wonderful about letting me have free reign to do whatever crazy stuff (i.e., zebra wallpaper) I want to our house and decorate and furnish it really however I see fit, so I figured the least I could do was try to give him the basement of his dreams. We don't use the word "mancave" in this house (all areas of our house are for our whole family), but definitely one of the key uses for the basement is a place for B and friends to play cards, watch sports, and relax.
The main feature of the family room space is this wall, complete with built-ins, fireplace, and the aforementioned TV:
I am so happy with how this space came together. The different finishes work together great in my opinion and add a great deal of warmth to the basement.
The fireplace stone is a particular favorite:
It's this very shimmery, almost metallic charcoal grey and it looks so pretty next to the textured carpet and rustic wood. I also am so glad we incorporated the fireplace. I think especially in the winter months it will be great to have a fire going while we watch movies football.
The built-ins were done by the same craftsman who built the basement bar area and were custom built for the space, which was essential given some of our requirements:
They are stained the same finish as the bar area woodwork (a custom mix of two Sherwin Williams stains) and are just exquisitely built. The attention to detail and work quality is just top-notch. The shelves are adjustable, but I am planning on leaving them as they are now - symmetrical and evenly spaced.
The shelves are full of lots of fun objects, photos, and books. I definitely kept the overall look more rustic and masculine down here, which is a nice counterpoint to the rest of the house.
The cabinet doors on this piece are simple Shaker-style doors,and the closed storage provides a place for A/V equipment to be kept accessible but out of sight, as well as board games, puzzles, and throws to have a home.
Looking opposite the TV wall, you'll see this area:
The exposed red brick you see is original to the house (it's the chimney) and I love the character it adds. The basement is, of course, full of brand new materials, but I happen to love some of the quirkier original details you often see in an old house. Retaining the brick was a way to bring a little bit of that character into the basement, and this small section makes a big impact.
The artwork is a large black and white historical photograph of the Italian Market in NYC. It hung in our dining room in the old house, and I was so glad to find the perfect spot for it in our new home. It's a great piece, and it's nice to have an item that reflects B's Italian heritage in this space. We hung it over a modern metal and wood console table. I'll probably tuck a couple of stools under here for extra seating whenever I find the right ones, but I think that's the only thing missing in this area.
One very key item that is missing elsewhere in our family room is our sofa, since we are still waiting on the fine folks at Crate and Barrel to send it to us. We ordered this one, and it's massive and looks super comfy.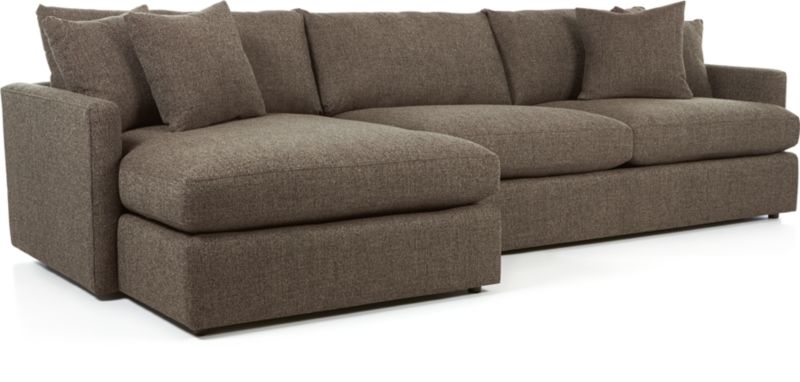 It's over 9 feet long and really deep, which should make it perfect for movie night snuggles and afternoon naps. I selected a custom upholstery, rather than one of the in-stock options, so I have to patiently wait for it to be built and shipped to me. I'll be sure to share updated pictures once it's finally in place (follow me on instagram: @jcintani to get the first look!).
Continuing on past the TV area is the game/play area. This area is sadly also lacking in furniture at the moment, but here's how it looks now:
I'm on the hunt for the perfect poker table to be centered under that chandelier, as Muhammad Ali looks on approvingly.
It's definitely been a challenge to find something suitable. Why are all game tables so cheesy, with the green felt and whatnot? No offense, but that's just really not my thing. I'm holding out for the perfect table and chairs - either a great vintage piece or a clean-lined modern version. So until then, we'll have to settle for playing the greatest game in the history of mankind:
I think I can live with that :)
Moving on to the other half of the game room, is a space where eventually we'll install a pool/ping pong/air hockey table:
Right now it's housing some of E's larger and less-attractive toys. It's the perfect spot for that and it's nice to have room for her to just run around and make a mess. There's a definite need for some additional art in this space, but since we're sticking with black-and-white photography for the most part, it takes some time to find nice pieces that are appropriate in scale, subject, etc. All in due time!
Beyond the double doors you see in the picture above is the exercise room (ignore the photobomber):
So the most important part of any exercise room is definitely a TV, and we're good to go there. This is a nice big room with space for at least two machines, as well as a yoga/stretching area and some weight racks. We have settled, I think, on the equipment we'll get for this room (a Concept 2 rower and an elliptical) so now it's just a matter of ordering it. I don't think the exercise room will get a ton of use until the weather is colder, so we're holding off a bit for now in favor of other necessities. You know, like leopard chairs.
As you can see, there's still some work to be done on the basement, but overall it's really come together nicely considering it's only been finished with construction for about 2.5 months.
I'll of course provide updates as the remaining furniture items come in, but even now with it being only somewhat finished we still love to spend time down here. It's the perfect spot for E and Murphy to chase each other around, and we look forward to many more fun times down here over the years.
In the meantime, here's one more shot of the basement today:
Thanks for reading!