I haven't shared our guest room on the blog yet, mainly because it was sort of the last refuge of unpacked boxes for many months after we moved in. But, as we finished up the other parts of the house, and had overnight guests coming in, it became more of a priority to spruce up this space a little.
It was easy enough to pull together since we already had all the furniture from our last house, and the room itself is a nice-sized, clean, bright room. We had this room painted along with the rest of the house before we moved in so that was done. This room is also the only room in the house that is carpeted (besides the master), and we kept the carpet as it was in perfect condition.
The chair is from one of my favorite stores that is sadly no longer with us, Elan. This was definitely one of my first "good" pieces of furniture, and it has certainly stood the test of time, moving from a couple of houses and from room to room. It just goes to show that investing in quality furniture is usually a smart decision in the long run.
My little shadow is always photobombing.
The dresser is part of a set, and it is fine but not at all what I'd choose today. More on that in a bit!
One of the things I really like about this room is I've incorporated a lot of meaningful pieces of decor in it. The birdcage above was used to hold cards at our wedding, and the little figure next to it was a gift I received from my MIL when I was pregnant with E. I've also got a few of our wedding photos and older family photos scattered around this room.
There's a tall dresser and a nightstand that match the longer dresser, and the headboard is upholstered in a neutral linen.
So, as I said, everything in here is in good condition and
functions perfectly as is, but of course I like to think of the current state as phase 1 :)
I know I sound like a bit of a broken record with my "phase 1" talk, but I do, in fact, have plans down the road to steal some square footage from this room to make the master closet (which backs up to this room) bigger. It only makes sense, since it's kind of a waste to have so much space allotted to a room that only gets used a handful of times a year. When we're ready to tackle that project, then this room will require some re-thinking.
At that time, I also would love to update the design of this room, as it's really not my taste anymore, nor do I think it goes with the rest of the house. It's got a few really special items, but also has become the place for pieces that don't have another spot.
Obviously I have a lot of other priorities before I undertake a complete redo of a guest room that is functioning just fine in its current state, but when I am ready to take that on, I'd love to go in a very different direction with this room.
So, for a while I've been obsessed with the idea of a black bedroom. However, I know myself well enough to know I'd get sick of it in my own bedroom, and I'm really happy with the light, bright design I did in our master. But for a guest room? A guest room is the perfect place to go bold, and what is bolder than black walls?
Here are a few black bedrooms that I love, that could serve as inspiration for this future re-design: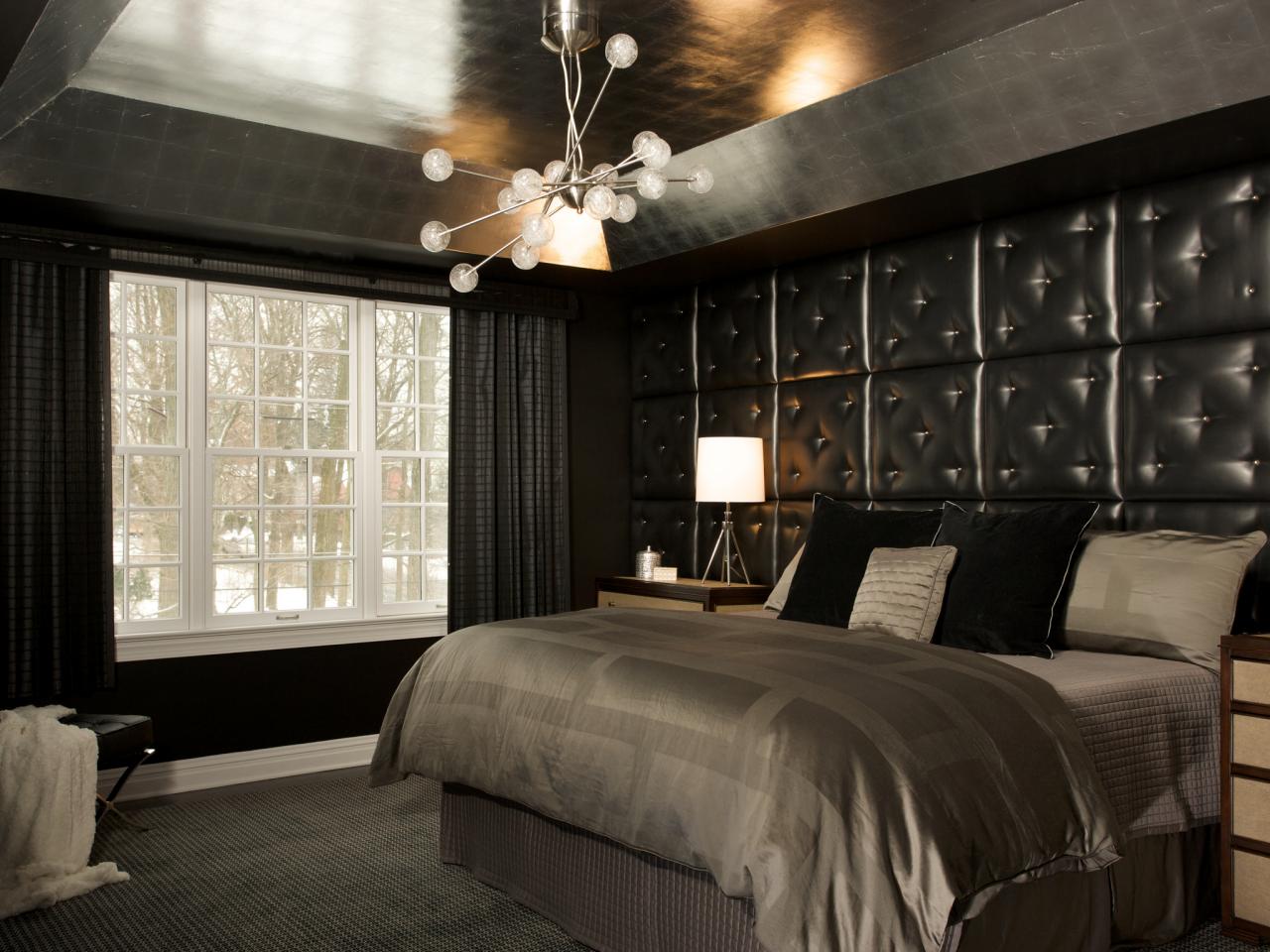 I love the black walls with crisp white trim here, and that light is amaze-balls. Also digging the metallic finish on the tray ceiling.
Tone-on-tone millwork and a crystal chandelier?! Yes, please!
This one is probably a little too goth, but I do love the black stained floor and the tonal wallpaper.
Love the bed and bench situation here, and that the walls seem to have some texture to them.
My all-time favorite, by the insanely talented Jessie D. Miller . I mean, where to begin?! The artwork is stunning, the combination of ceiling medallion and that light fixture is ridic, and that brass bed?!?!
It takes my breath away. It's all super good, and I would like nothing more than to duplicate something like this in my guest room. The only problem with this plan is that I might end up liking my guest room more than my master!
Whatever I end up doing in this room, you can be sure I'll blog and instagram about it :)

Thanks for reading!