The front parlor has proven to be quite the tricky room for me. I have been full-steam ahead on most of the rest of the house, but haven't really focused much firepower on this room thus far. I think the fact that it's right next to the formal living room is what has really thrown me off. It's basically another living room, but of course it would be weird to have it look just like a second living room.
You can get a better idea in this photo of the relationship between this room and the FLR (forgive the photobomber):
It's definitely on the larger side and gets great light, especially in the morning, so I really wanted to figure out a way to make the most of the room, and above all, make it feel like a unique, comfortable, and intentional space.
Pretty empty. In addition to the big window you see above, there's another set of windows the same size on the wall immediately to the left, so the light is really great.
Of course this room got the same hardwood floors and paint as the rest of the house (floors are a custom stain and walls are Benjamin Moore Paint Revere Pewter). I laid this striated emerald green silk rug on the floor, with the intention of pulling this color in with additional upholstery, and also to tie it to the green that appears elsewhere in the house.
This green is a secondary color in the FLR, with navy being primary, so I'm basically just reversing that here.
I just recently installed the curtains, so you'll notice they show up in in some photos and then disappear in others. I had these made for this room and the formal living room in a subtle grey linen I ordered from (appropriately enough) Gray Line Linens in NYC. I'm going to do a full post soon on window treatments, because I have a lot to say about that whole adventure :)
The piano is in this room, between E's reading nook and a hallway that leads to the powder room and the back of the house.
Here's a shot, showing the layout of the nook in relation to the rest of the room and the piano:
Note the adorable little dumpling in her nook.
Although it's a little worse for the wear, having now been through four (!!) moves, I am extremely attached to the bench because my brother made it for me. I'm not sure this is the perfect spot for it, but it's there for now.
I do like the twin mirrored consoles flanking the windows, so I think I'll keep those in place, and the artwork is working for me here too.
So, the plan I think I've landed on is to definitely add some furniture, but make it different enough in style from the formal living room. That room, as you might recall, is fairly masculine with its navy leather chesterfield sofas and library shelves:
My thought for this room is to go slightly more feminine, while still keeping it comfortable so we will actually use the room. In my mind, this is the room where we have our coffee on weekend mornings and take advantage of the great sunlight.
I've had these Restoration Hardware porter chairs on my mind for a long time and thought this might be just the space for them.
I think they are awesome, although you do have to be careful that they don't go a little too Real Housewives of New Jersey in certain rooms. Not that there's anything wrong with a little RHONJ!
I could definitely make them work here, but I think I can do better. I am now leaning towards a pair of wingbacks, probably something like this Ballard model, upholstered in a yet-to-be-determined fabric.
I'm on the hunt for the fabric now. I think I want it to be something with navy and emerald green, but that is an extremely hard combo to find unless you want straight-up preppy a la:
Nothing against preppy - I love me some preppy. But, that's not what I want for this particular room.
My other thought for the chairs is to just go for it, and upholster them in (stay with me here) LEOPARD!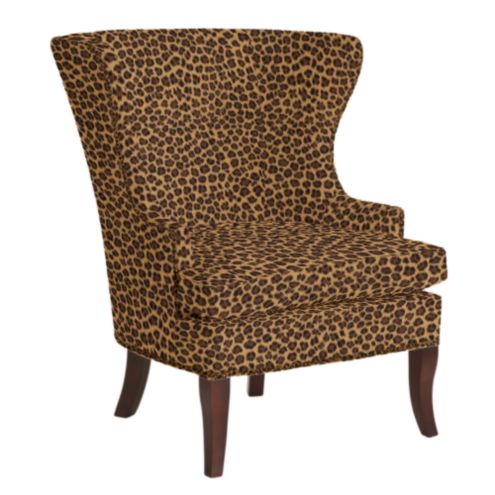 Speaking of RHONJ :) I'm not 100% in love with the leopard pattern on the example above, but I do think it could look really good with the right, high-quality fabric. Something like this Scalamandre silk velvet would be better, and perhaps just the zhush this room needs: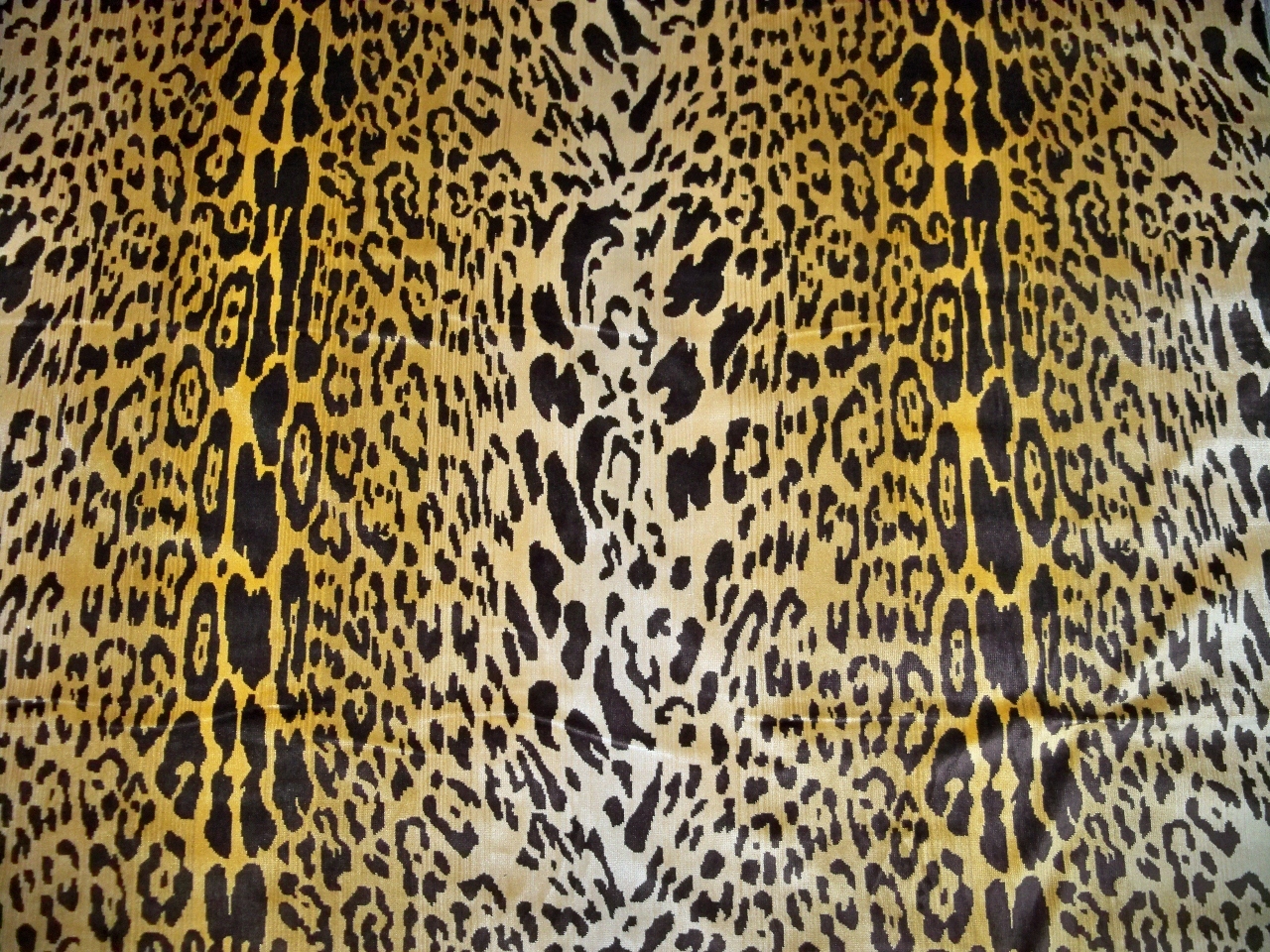 To round out the seating, I want some sort of settee or daybed. Definitely something with a low profile - I don't want anything tall that will block the sight lines. To that end, I am seriously considering hopping in the car and heading down to Overland Park, KS to buy this one that's for sale on Craigslist there:
It's such an interesting piece, and really unlike anything else I've seen. It would, of course, need to be reupholstered, but I would keep the fabric on this one a little more pared back, especially if I do the leopard chairs.
I'm also really into this daybed option:
It's from a custom furniture maker (www.cladhome.com) in Los Angeles who ships nationwide. I'd definitely make some customizations in terms of size and finish were I to go in this direction, but it's also a nice option.
So, I think I've settled on a furniture arrangement: two chairs under the windows and parallel to the piano,maybe leopard, maybe something else, along with a s
ettee/daybed placed perpendicular to them between the chairs and piano, facing the bench.
I think this layout will work to provide a
comfy place for the adults when E is snuggled up in her nook and tie all the rooms in the front of the house together nicely.
Thanks for reading!