The staircase in this house is behind a door, which is kind of unusual. It's a more closed-in style staircase than what I normally prefer, and I was really attached to the idea of a big, open staircase nearer the front of the home. If given the option to change one thing about the house, this would probably be it. Nevertheless, I think it will actually be fine and once we add a fun stair runner I'm sure I'll like this area a lot more.
I think we'll do something graphic and black and white. Here are a few that are similar to what I'm thinking:
Once you come to the top of the stairs, there's a big, wide open space that has a ton of potential.
We're going to use it as the playroom for E (with the addition of a safety gate at the stairs, of course) for the time being, then most likely transition it to a sitting area once she's outgrown that. She's got some really big toys, so I think it will work really well for her since it's so nice and open. I also like that it's on the same level as her bedroom, so when she's a little older she can go back and forth between her room and playroom without going up and down the stairs.
E's play kitchen will go in this space, along with a big comfy chair to cozy up for reading books, and some great storage for all her toys. I'm thinking something like the bins from Land of Nod will work well here: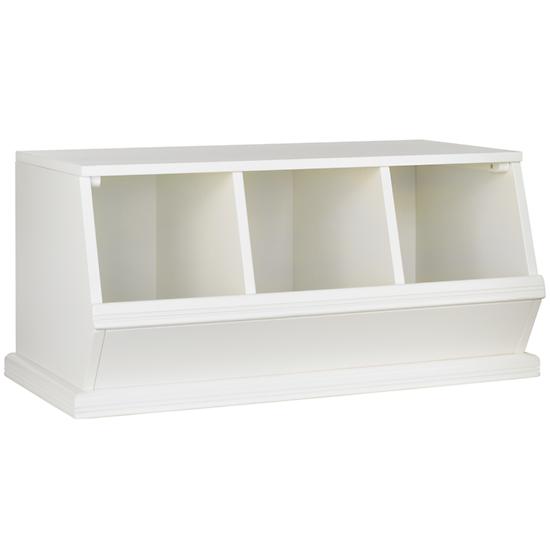 There's a guest-room to the left of the playroom area, which will be used as just that. Not a lot of updates are planned in either of these areas, just refinishing the floors to match the dark walnut color we're doing throughout, new paint to update from the tan neutral to a more grey neutral, and new window treatments. The guest room is carpeted, and the carpet is in great condition, so we're just going to leave that as-is for now.
A little further down the hallway is E's room. This is a sweet room with slanted ceilings and great light. It will be painted a pale pink color from its current yellow. I think Benjamin Moore Ballet Slippers will look so pretty with the white trim in this room and is the perfect pink for a little girl's room:
That covers the easy part of the upstairs. Next time I'll talk about the really complicated stuff we're doing up here in the master suite, new laundry room, and E's bathroom.