The sorry state of the bathrooms in this house has been well-documented previously. They were in rough shape, so we took them down to the studs, basically. Now that they are so close to being back together and functional, it's almost enough to make me want to throw a party.
The first floor bathroom was one that we initially thought wouldn't need a lot of work, but then as we got into it the changes needed just kept adding up. First, we had to put a support beam through the wall, then that ruined the plaster and so we had to dry wall, then the base tiles got messed up, so we had to replace those. It kind of spiraled in a really bad way.
But, the upside is that I got to make a BIG statement in here and really make the room a showpiece:
The wallpaper is Scalamandre Zebras in Serengeti Green, and it very nearly caused my wallpaper hanger to never speak to me again. The scale of the zebras is huge, so that combined with the fact that each strip needed to be trimmed on both sides caused her a lot of headaches. But, she got it done, and did a really great job (Lori at the Hangups, if anyone is looking for someone. Please tell her I sent you so maybe she'll start to forgive me a little bit :))
I am obsessed with this wallpaper and have loved it ever since I saw the red version in Margot's room in The Royal Tenenbaums:
Gwynnie is my spirit animal.
On the bottom half of the wall, it previously was patterned white plaster, so although subtle, there was enough design that it could stand up to the wallpaper. The plaster was a casualty of all the structural work that had to be done, so we drywalled over what used to be a nice historical detail.
I didn't want to leave the bottom half a boring plain sheet of drywall, so I drew up a quick molding pattern and my contractor executed it. It's hard to see in the picture above, but it's three rectangles, two vertical ones on either side of the window, and a horizontal one below the window, which we painted the same color as the wall so it would look more modern (Wall Color is Benjamin Moore Martha's Vineyard). Side note: does anyone else pick paint colors based on how well they like the name?
We also refinished the floor in this bathroom, which made a world of difference. I like the original marble so much that I was intent on keeping it, and I'm so glad we did:
Even though it's many, many years old, I think the white tile with dark grout and herringbone pattern look super modern.
We couldn't install the new sink and toilet in this bathroom yet because it's being used for storage while we refinish the wood floors in the rest of the house.
The sink I chose was this one from Signature Hardware in a shiny chrome finish:
I like that it combines modern and vintage elements in a really pretty way.
I lusted after the marble version of this sink from RH, but just couldn't pull the trigger on a $2K powder room sink. I'm sure B is grateful for that.
The toilet in the powder room will be the same Kohler Memoirs model I'm using throughout the house: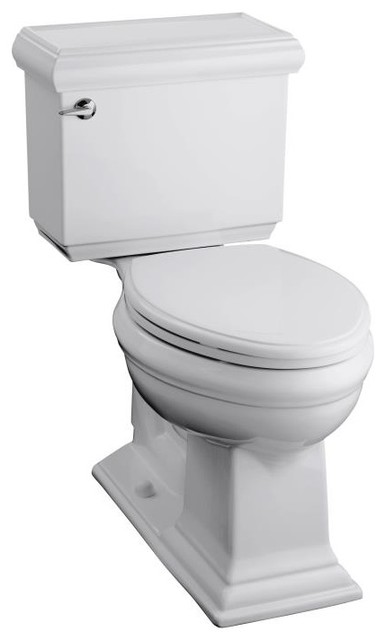 Simple and pretty - it'll do!
We've also been making great progress in E's bathroom:
It's fully wallpapered, tiled, and the fixtures are installed. All we're missing is the medicine cabinet and vanity light.
Oh, and the plumber has to switch around the temperature labels on the taps.
I feel guilty about asking him, since he already changed them once. He initially put the English hot and cold on them, obviously mistaking me for a sane person, so now I have to inform him that Chaud is hot, not cold.
E's bathroom is looking really pretty, and I love the combination of the tiled floor with the wallpaper.
I also found the most perfect shower curtain for E (from Ballard):
Black pom-pom trim and a monogram?! Be still my heart! It's going to be the perfect finishing touch on this room.
Her vanity was one I found at Home Decorators in a pretty white with feminine details and a marble top. The only downside was it came with some basic brushed nickel pulls that I swapped out for more substantial chrome ones. I think it looks really good with the new hardware!
I'm glad that E's bathroom is in such good shape, since she's going to be sharing it with mommy and daddy for about a week after we move in. The master bath is coming along, but there's still a LOT to do in that room, and with the job site closed for a full week for floor refinishing, it's just not going to happen before moving day.
Hopefully in the next blog I can share at least a few pictures of the master bath as the plan starts to come together.